1stBP Webinvoice Clients - FAQ (English)
In Billzone.eu online invoicing system, processes are developed for individual Webinvoice clients. It is important to follow the below steps in the billing process.
Please find below some important setting advices regarding country and language: Country and language setting page: https://www.billzone.eu/Global.aspx Where can I set the country (the official site of my company) in billzone.eu throughout the registration process?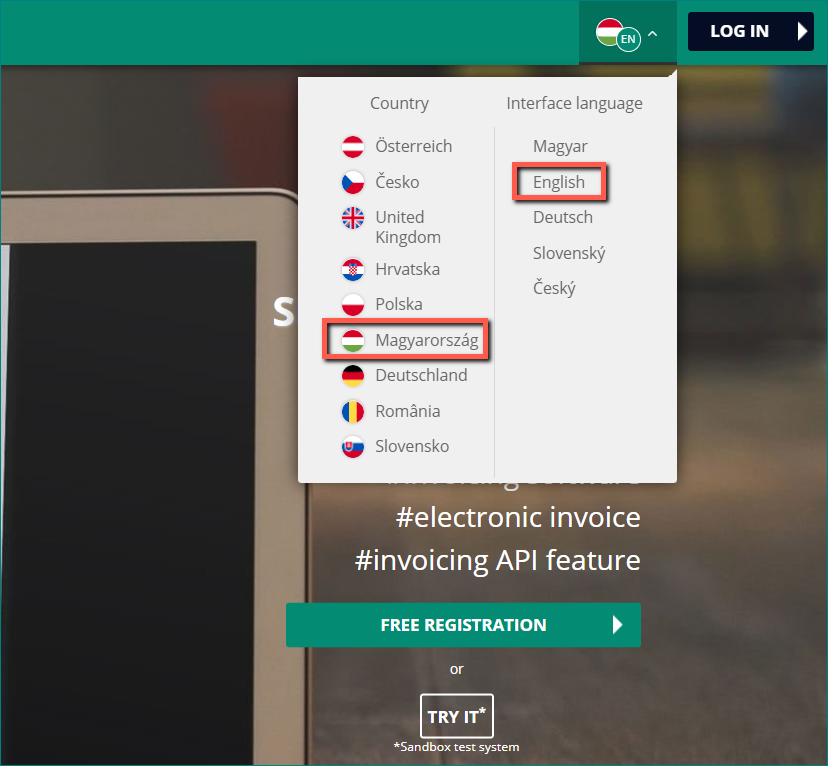 Where can I set the display language in billzone.eu? You can set the language either at the beginning of the registration process, or if the registration already happened, you can change the display language in the System as shown below:

About creating invoices and other useful information:
Only those invoices are transmitted to AUDI, of which are issued by pressing the CREATE AUDI INVOICE button.

After the invoice is issued, it will be automatically uploaded to the 1stBP system (via SFTP upload), which will forward the invoice to AUDI. This means that there is NO need to send the invoice by email to AUDI, also please ignore "invoice delivery message not sent" status message. After the invoice is issued, the invoice is sent automatically, and the invoice issuer is NOT required to make any further steps.
However, you are advised to ascertain that your invoice has been successfully sent to 1stBP. The billing status can be checked in the Billzone.eu interface.
The status of invoice upload can be viewed under Statistics/1stBP invoice dispatch tab.

You can use the filter on this page to filter and list the status and date of your invoices. Accounts may have the following status:
Processing in progress
Successful processing
Unsuccessful processing
In case of successful submission, the status is: Successful processing. If status says Unsuccessful processing, please contact our customer service in email support@billzone.eu. To ensure smooth processing of your request, please include the following data in your email:
company name
company tax number
invoice number
Issuing a foreign currency invoice to AUDI
In Master Data/Payment Method tab you can set a new payment method, e.g. your EUR account.

Since you are billing to Buyer Audi Hungaria Zrt (i.e. the invoice is issued by clicking on CREATE AUDI INVOICE button in Billzone.eu Home Page), you have to modify the existing AH **** in Master Data / invoice sequence groups tab. Click on the invoice number prefix and make any changes you want, then save it by clicking Save.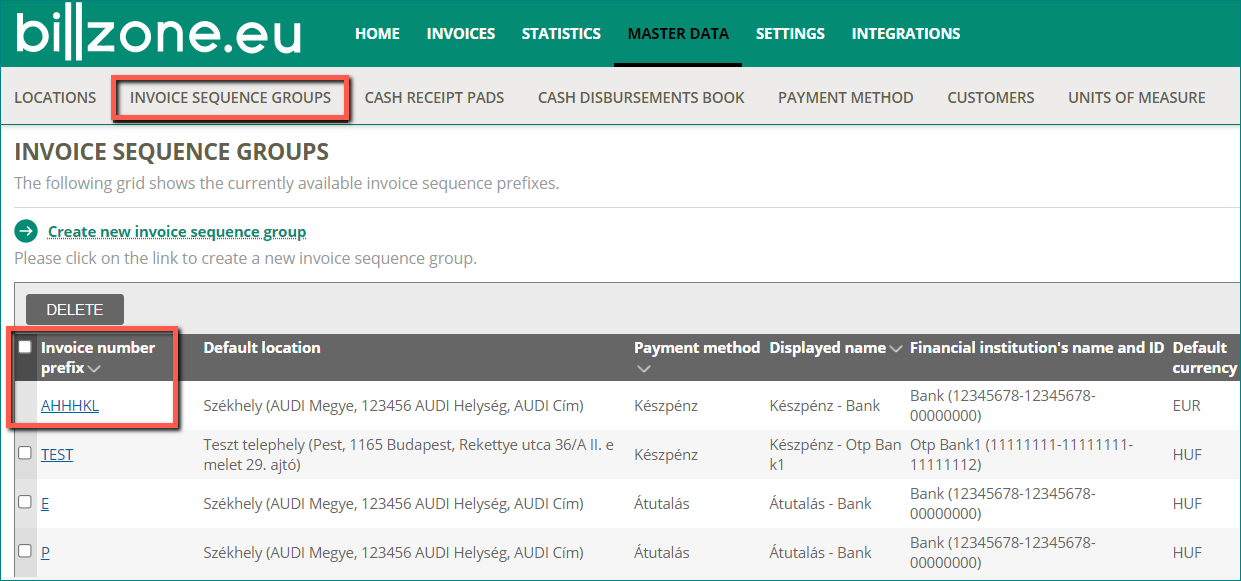 In Master Data/Invoice Sequence Groups/Change the default settings of the invoice sequence group tab, the previously saved Payment Method data is automatically pre-loaded, you only need to select the Payment Method from the drop-down list that will be included in the invoice.